Sealed metal powder transfer system contains toxic materials to eliminate safety hazards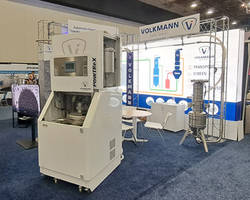 Volkmann PowTReX automatically prevents exposure to hazardous materials
Bristol, PA: The PowTReX metal powder transfer system from 3D printing equipment manufacturer Volkmann USA, Bristol, PA (https://www.volkmannusa.com), automatically transfers metal powders from storage to printers in a fully enclosed conveying system to eliminate the potential for hazardous contact between workers and toxic materials. Featuring patented pneumatic vacuum conveying technology, the PowTReX system safely loads virgin material into one or more printers at the push of a button and retrieves unused material without the risk of spillage or releasing airborne particles into the system. in the workplace. The automated powder handling system also eliminates the use of forklifts to transfer heavy containers to the printer and manual overflow disposal after printing.
Often specified by 3D printer manufacturers as original equipment, the PowTReX system is explosion-proof by design and has earned ATEX certification as suitable for use in hazardous environments without worrying about flammable powders or dust explosions combustibles, under inert and non-inert conditions. By containing the metal powders inside a sealed conveyor, the PowTReX system can eliminate the need for workers to wear gloves, goggles and other PPE, as well as the need for expensive industrial vacuums and other dust collection equipment.
For more information, contact Volkmann, Inc., 1900 Frost Road Suite 102, Bristol, PA 19007; 609.265.0101; [email protected]; www.Volkmannusa.com.
For immediate distribution, contact:
David Nichols
+1-609-265-0101
[email protected]
Paul Entin
+1-908-479-4231
[email protected]
Contact this company Download the technical sheet
More Electronic Components & Devices